One of the best defense-men to ever play the game, Nicklas Lidstrom of the Detroit Red Wings has announced his retirement after 20 seasons in the NHL, all with the Wings. Lidstrom, who is now 42 years old has the NHL record for most games played with a single NHL team in 1,564 games. A career that saw him bring in 4 Stanley Cup Championships and 7 Norris Trophies for being the best defense-men in the NHL. Lidstrom was also a four-time Olympian and scored the game winning goal for his native country of Sweden to win the gold medal in 2006. He is also the first European-born captain to win the Stanley Cup in 2008, 2 years after being the first player from Europe to win the Conn Smythe Trophy as the Stanley Cup Playoffs MVP.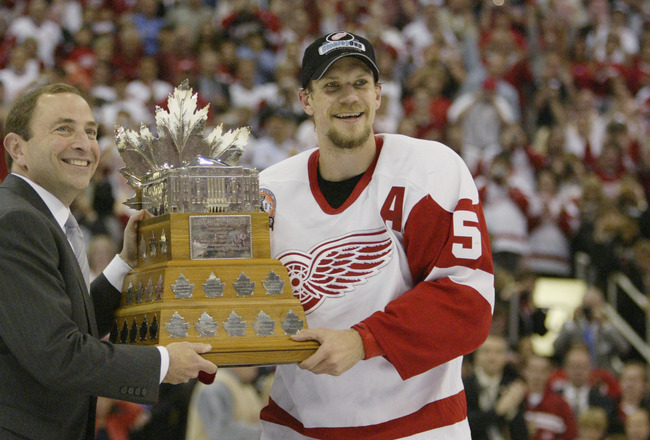 Lidstrom ended his career with a total of 264 goals and 1,142 points all together. When all is said and done, he will go down as one of the best Red Wings ever in the franchise's history. When talking to Lidstrom during the retirement announcement he had these words to say, "Retiring today allows me to walk away with pride, rather than have the game walk away from me." Lidstrom is ready to return home to Sweden where his oldest son has went to attend school and play for the schools hockey team. Lidstrom's wife was also at the interview and had told him, "She even said, 'If you want to play another year, we can make this work," but after a long 20 year career it started to take a lot out of him, which ultimately lead to him ending an amazing career.
Lidstrom will most likely join former Red Wings to have their numbers retired, Steve Yzermans No. 19,  Gordie Howe's No. 9, Ted Lindsay's No. 7, Terry Sawchuck's No. 1, Alex Delvecchio's No. 10 and Sid Abel's No. 12 sometime next season or sometime down the road. General Manager Ken Holland also had kind words for Lidstrom as he announced the retirement, "I think he's been the most valuable player of his era and will go down as one of the greatest Red Wings of all time," And "I've been dreading this day since I became manager in 1997," that says a lot about a player and when all is said and done Lidstrom will be in the NHL Hall Of Fame and his "Number 5″ will be in the rafters at the Joe Louis Arena in Detroit. We thank you for an amazing career Nick and for all the memories, even for fans outside of the Wings organization, we all enjoyed watching you throughout your career.